The AXA Art Prize is one of the leading student art competitions in the United States. The competition is open to any style of figurative paintings, drawings, and original printmaking created by undergraduate and graduate art students. As one of the largest global insurers, AXA's purpose is to act for human progress by protecting what matters. Protection has always been at the core of our business, helping individuals, businesses and societies to thrive. Fostering progress and success in all dimensions is part of our DNA. The AXA Art Prize is a way for us to support emerging artistic talent and to give it the platform it deserves.
Now in its sixth year in the United States, the AXA Art Prize has established an excellent reputation as an insightful overview of the best new talent nationwide. University of Wisconsin-Madison Art graduate students Skylar Simpson and Mallory Stowe were selected as part of the 40 finalists for this year's AXA Art Prize competition out of over 700 applicants from a record 203 different schools! The figurative art competition of paintings, drawings, and prints were chosen by an Exhibition Jury comprised of Ian Alteveer, Curator for Modern and Contemporary Art at the Metropolitan Museum of Art, Peter Eleey, Curator at UCCA Center for Contemporary Art, Ann Philbin, Chief Curator at the Hammer Museum, and independent curator Nancy Spector. The student's artwork will soon be exhibited internationally in the AXA Virtual Gallery and will be exhibited live in NYC at the New York Academy of Art this November. The 40 finalists are also in the running to be considered for the First Prize of $10,000 and Second Prize of $5,000 to be selected by the esteemed panel of artist jurors, Jules de Balincourt, Damian Loeb, and Mickalene Thomas, in November.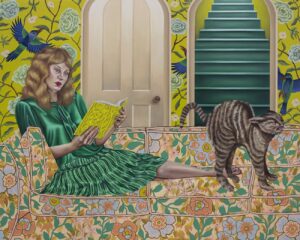 Skyler Simpson works with graphite, gouache, and oil paint to create narrative portraits of women and interiors. Her work explores domesticity as a source of both comfort and anxiety. Skyler obtained her BFA from the University of Nebraska – Lincoln in 2018 and worked as a painting intern at Anderson Ranch Arts Center during the summer of 2019. She has exhibited in group shows throughout the United States. Her work was included in the AXA Art Prize Exhibition in 2022 and 2023. Skyler is currently an MFA candidate at the University of Wisconsin – Madison.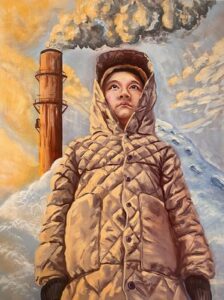 Mallory Stowe is a contemporary figurative painter examining the state of relational dynamics through the interplay of small, intimate moments observed in everyday life and surreally represented. The flowing figurative scenes open a discourse on post-pandemic socio-economic communities, containing both romantic and platonic interactions. The imagery sits at a powerful crossroad between societal engulfment and the desire to be truly seen separate from social constructions. Stowe paints characters to be multifaceted in humor, fear, complexity and wholeness, in hope that viewers allow the same for themselves.