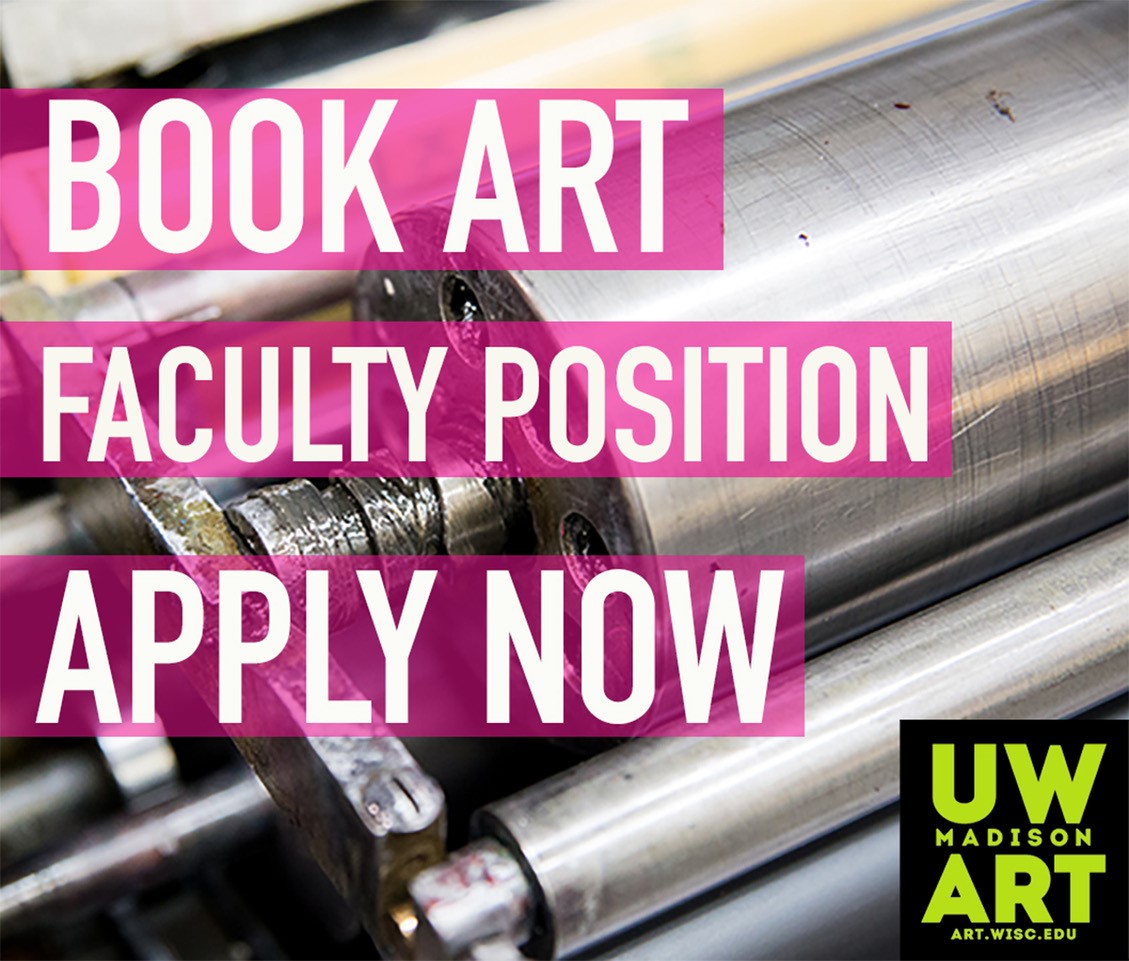 For immediate release June 11, 2021:
Apply now for our Assistant Professor of Book Art Faculty Position!
The Book Art program within the Printmaking area of the Art Department at the University of Wisconsin-Madison is seeking a tenure-track Assistant Professor to teach Undergraduate and Graduate students.
The Book Art program introduces book structures and skills used in binding and to acquaint students with the formal, visual and technical aspects of bookmaking, exploring the relationships between concept, design and book structures. They experience hands-on work using book making tools and materials and gain an appreciation of book structures as a creative and expressive medium. In the working process, students are provided an opportunity for experimentation with a range of materials and equipment. The program helps develop good working habits, discipline, accuracy and precision.
The deadline for assuring full consideration is August 22, 2021, however positions will remain open and applications may be considered until the position is filled.
April 23 - June 20 Location: University of Wisconsin-Madison School of Education Art Gallery, Education Building, 1st Floor, 1000 Bascom Mall, Madison, WI Between Dark and Dawn is a personal photographic exploration of an altered temporality and generational linearity...
Did you know?
The UW-Madison Art Department is:
#1 in Printmaking
Ranked among the top 15 Fine Arts MFA programs
Founded the 1st collegiate Glass program in the U.S.
1 of only 5 universities in the nation with a Neon program
Ranking Source: U.S. News & World Report
---
The University of Wisconsin-Madison ART DEPARTMENT is committed to teaching art in the context of a major research university and a vibrant intellectual community. Offering the following degrees: B.S., B.F.A., M.A., & M.F.A. in Studio Art, B.S. in Art Education, Certificate in Art Studio, and Certificate in Graphic Design.
Take a 720° virtual tour of the Art Department