Art Connects
The School of Education Art Board of Visitors serves as an external advisory body to the Art Department, the Office of External Relations, and the Dean. Members are chosen for their accomplishments and their ability and willingness to help the School and the Art Department realize the goal of building an Art Building.
Our Mission
Based on our belief that art connects, the Art Board of Visitors expands and strengthens the visual arts at UW through our support of the Art Department.
Our Vision and Goals
Board members serve as ambassadors for the Art Department through our professional capabilities and by fostering connections with the University. We provide feedback and advice to support its programs and initiatives. We are committed to improving the art studio, educational programs and facilities for the undergraduate and graduate experiences, while working to expand and enhance alumni and community involvement for the Art Department.
Guidelines and Responsibilities
Meetings are held twice a year, in the fall and spring usually in Madison. We meet for one full day. It is expected that members will attend at least one meeting a year.
Though there is no required minimum financial contribution for BOV members, it is hoped that each member will contribute as they are able. Many areas need our financial assistance. Initiatives we have supported include: Art Department BOV Fund; Art Department Building Fund; Art BOV Scholarship Fund; James B. and Susan S. Patterson MFA Fund; and James B. and Susan S. Patterson Art Graduate Student Fellowship Fund.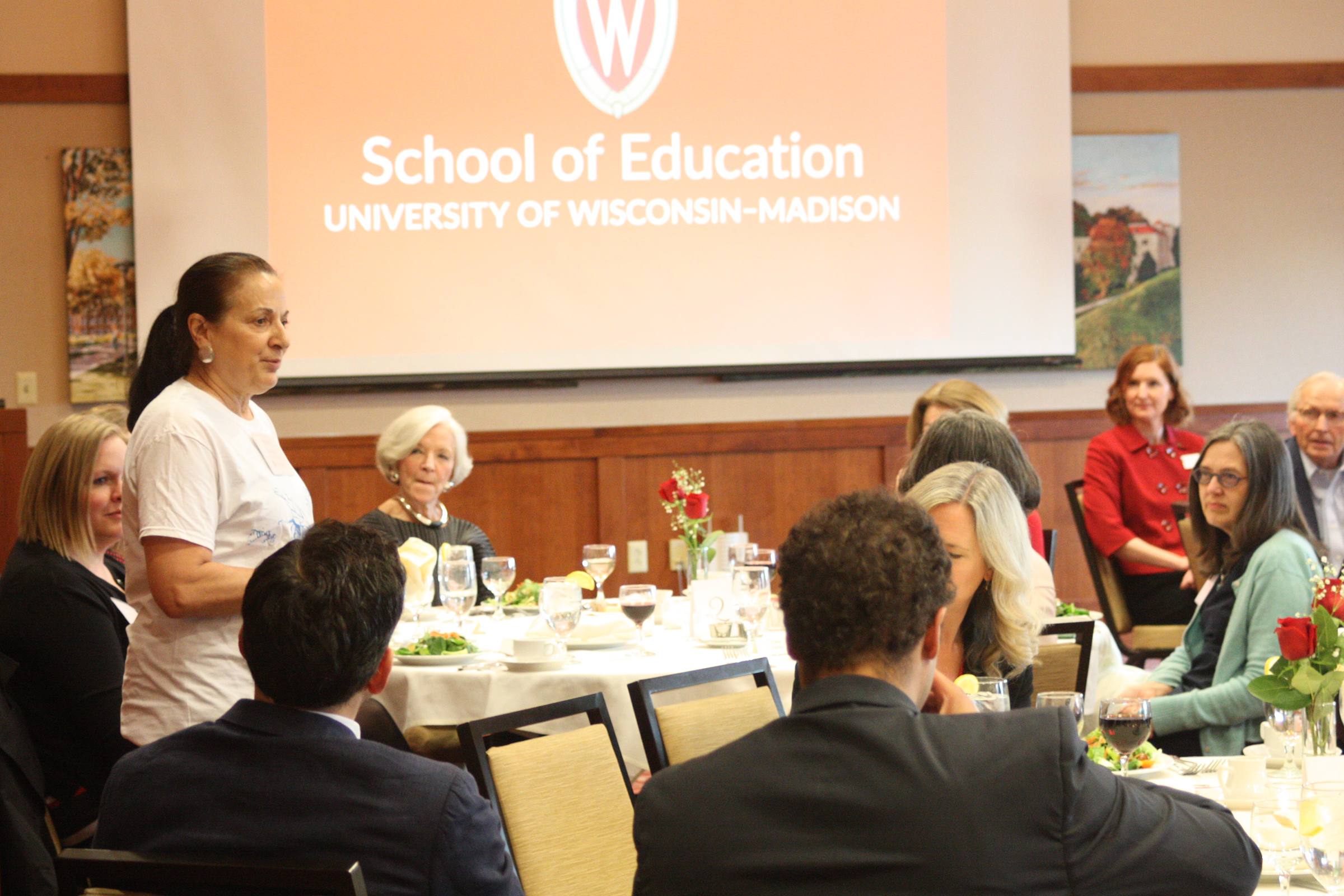 Membership
The Art BOV is a group comprised of alumni and supporters of the arts who provide advocacy for the UW Art Department. The Executive Team consists of up to 15 members. In addition, the Art Department Chair, the Associate Dean of the Arts, the UW Foundation Representative for the Arts, and one art faculty member attend meetings. The Assistant to the Art Department Chair also attends and records the notes.
Members are nominated by the Art Department Chair, the UW Foundation, or by an Art BOV member. The Board and the Art Department Chair review nominees.
Members serve a 3-year term with the option to renew. After the second term is completed, members may move to the Honorary Team.
Teams & Committees
Executive Team
Comprised of members serving 3-year terms. One member serves as Chair of the Art BOV.
Honorary Team
Comprised of past Art BOV members and local supporters.
Committees
Local Wisconsin/Madison Committee
Serves "as needed" basis. Members will help with Art Department events and initiatives requested by the Art Department Chair.
Outreach/Mentorship/Career Committee
Responsible for envisioning a mentorship program for our students through organizing BOV members and alumni who would serve as mentors and/or helping to create a list of alum mentors.
Helen T. Burish, Chair, BS 1975, MA 1996
Helen Burish received her degrees in Art Education at the UW-Madison. Her 27-year teaching career included positions at Green Bay Preble and Middleton High School, as Art Department Chair at both. As an Associate ASID, she has worked on concepts and interior design for Epic Systems Corporation and Milestone Senior Living. Like their parents, her children, Adam and Nikki, attended the UW-Madison, both as captains of the 2006 men's and women's national champion hockey teams. Burish currently serves as Chair for the Chazen Museum of Art. She also enjoys travel, golf, and photography.
Julie Betts Testwuide, BS 1979 Education & MS 1981 Art
Julie Betts Testwuide, an award winning photographer and artist, began her career after completing her undergraduate and graduate degrees at UW-Madison. Julie enjoyed a successful career as a freelance photographer in NYC, working for major corporations, publications, and sporting events around the country. In the 90's, Testwuide ventured into fine art photography often merging her love of painting with her photography. Aiming for a dreamy ethereal look, her work was described in the New York Times, "Testwuide uses several techniques that make her work look like paintings by Monet or Pissarro." She has won numerous awards and her work is included in many collections worldwide.
Her latest work has focused on photographing wild horses around the world and is exhibited in galleries in New York and Malibu. A passionate horse lover, Testwuide uses her camera to capture equine beauty and spirit in dramatic light and prints them in commanding sizes. She is teaching workshops and sharing her wild horse adventures and photographic techniques with budding photographers. After raising 3 children, Julie and her husband, Kip, a fellow UW alum, moved to Katonah, New York where they reside on a small Icelandic horse farm an hour from New York City.
David B. Dahlquist, BS 1980
David Dahlquist learned about the wonders of painting and sculpture at an early age, during frequent trips with his artist mother to the Chicago Art Institute. By the time he entered UW-Madison in the late 1970s, he had an extensive understanding of the vocabulary of art, plus talent. Today, Dahlquist is widely recognized for creating public art on a grand scale. Since 1988, he has completed more than 30 large-scale public art commissions—including 10 major site commissions for the Iowa Department of Transportation. His artwork also is represented in more than 50 corporate, public and private collections.) Dahlquist merged his studio with RDG Planning and Design in 2004 and now leads RDG Dahlquist Art Studio—a hands-on fabrication facility staffed by 10 artists and integrated within the nationally recognized Iowa firm.; Throughout his career, Dahlquist has supported developing artists through university and community initiatives. He has demonstrated a strong commitment to arts outreach by providing more than 60 workshops and presentations to schools, colleges and universities nationwide.
Jim Escalante, Professor Emeritus of Book Arts
Jim Escalante was a faculty member in the Department of Art at the University of Wisconsin-Madison from 1989 to 2019. He taught courses in Book Arts, Graphic Design and Photography. His first teaching appointment was in the Department of Art at Southwest Missouri State University in Springfield, Missouri in 1981. He is originally from Mexico City, Mexico and has lived in Texas, Missouri, and Wisconsin.
David Huchthausen is an internationally recognized artist with an extensive international exhibition record spanning nearly 40 years. He maintains a private studio in Seattle where he works with complex and highly technical fabricated glass and projected light. His sculpture is included in the permanent collections of more than 60 major museums worldwide, including the Metropolitan Museum of Art, The Smithsonian, the Hokkaido Museum in Sapporo, Japan and the Museum of Fine Art in Düsseldorf, Germany. He has received numerous grants and awards and his work is widely documented in dozens of books and catalogs. Huchthausen received an Associate of Arts and a BS from UW. He earned his MFA from Illinois State University, and directed the glass program there from 1976-1977. Huchthausen was awarded a Fulbright Research Scholarship to the University of Applied Arts, in Vienna, Austria in 1977 and 1978. He served as Design Director of Milropa Studios in New York from 1978 to 1980 and Associate Professor of Art and Director of Glass Programs at Tennessee Tech University from 1980-89. In addition to teaching, Huchthausen has organized and curated numerous national and international art exhibitions and served as Curatorial and Acquisitions consultant to the Woodson Art Museum in Wausau, Wisconsin from 1976 to 1993.
Chele Isaac, MFA 2008
Chele Isaac is an artist who lives and works in Madison. Her work is both performative and installation-based and utilizes multi-channel video projections, sound as environment, and sculpture. Before returning to school, she co-founded and operated a graphic design company in Chicago with her partner, Amy Cahill. The two incorporated under the name Speak, Inc and took the name as a directive for the focus of their projects; affordable, well designed objects that promoted women's history. Armed with a small screen-printing press and no idea how to use it, the partners created a line called Women Fly and printed their designs and biographical stories of little known historical figures on anything that would take ink. For ten years, the business flourished and their following grew. In 2000 the business was sold to an aspiring entrepreneur who had followed the grassroots project from the start. Since then, Isaac has focused on her artwork, obtaining her masters, and renovating a historic downtown church as a studio, project space for art events, and home for herself, her husband John, and their spoiled dog Maia.
Diane "Dedi" Knox, BS 1967 Art Education
Dedi Knox is a professional artist from Milwaukee, Wisconsin. She works in oil and watercolors. Knox taught for six years and then quit to raise her family.
Sarah Milestone, BA 1994 Art History
Sarah Milestone is an experienced museum professional with success leading major initiatives and managing donor and brand relationships for internationally recognized arts organizations. She has held key fundraising and event positions at the Wisconsin Historical Foundation, American Ballet Theatre, Whitney Museum of American Art, the Frick Collection, and the Guggenheim Museum. Milestone graduated from the University of Wisconsin-Madison where she studied Art History and Women's Studies. She loves to explore all kinds of art, design and culture—especially by foot or bike and with her tiny dog in tow. Milestone spent twenty years in New York and is originally from Madison, Wisconsin.
J.J. Sedelmaier, BS 1978
J.J. Sedelmaier graduated from the Art Department in 1978. His major career accomplishments include both high profile commercial successes, writings about the graphic arts, and historical preservation work. Most notably, his studio launched the first season of MTV's Beavis & Butt-Head and were co-creators, with Robert Smigel, of the TV Funhouse cartoons for NBC's Saturday Night Live. The studio's most recent broadcast projects include the creation of all designs and animation for The Colbert Report's Tek Jansen cartoon series and the reintroduction of classic animated characters like Speedy Alka-Seltzer and the Scrubbing Bubbles for SC Johnson. He has helped save historic structures like the 1926 Bar Building in White Plains, New York, and the Dempster Skokie Swift Terminal in Skokie Illinois. He currently lives and works with his wife Patrice in White Plains. They have two grown children, one of whom recently graduated from UW-Madison.
Joseph H. Seipel, BS 1970
Joe Seipel is the Senior Associate Dean for Academic Affairs and Director of Graduate Studies in the School of the Arts at Virginia Commonwealth University. Previous to his current position in the Dean's Office, he served as Chair of the Department of Sculpture for seventeen years. US News and World Report ranks the Department of Sculpture's graduate program number one in the nation and the School of the Arts as the highest ranked public arts program in the country. The numerous articles and presentations on his innovative approach to sculpture curriculum have had a profound effect on how sculpture is taught across the country. His own studio production is monumental in scale and ranges from conceptually based objects to multimedia pieces and robotics. Seipel, his wife Suzanne and daughter Chloe live in Richmond, Virginia.
Julie Luchs Smigel, BS-Art 1995
Julie Luchs Smigel received her Bachelor of Science in Fine Arts degree from the University of Wisconsin in 1995, where she studied life drawing, painting, photography and jewelry design.  She always had a passion to work in the Fashion Industry and found a way to bring her artistic and creative abilities to that field. Luchs Smigel began her fashion career working as an assistant to the Accessories Editor for W Magazine where she worked as a stylist on photo shoots and worked with many design houses. She then went on to work in fashion public relations at Gap Inc. where they dressed the entire NYSE in khakis for Gap at Work, after which she entered the luxury brand market with the celebrated jewelry designer David Yurman, and later the iconic fashion house Louis Vuitton where Luchs Smigel worked in PR and on Special Events for art collaborations, including the Murikami Brooklyn Museum Exhibit opening and Pharrell Williams Millionaire launch. She has been a volunteer with the United Jewish Appeal, Central Synagogue, and has recently been on a mission with The Cantor Fitzgerald Relief Fund to aid those in need in Puerto Rico. Luchs Smigel lives in New York City with her husband Stephen and their two children, Harrison and Logan. The University of Wisconsin is where Julie discovered life-long friends and fell in love with the spirit and mission of the school.
Although he was a business student while attending UW-Madison, Ron Starr has been creating pottery as a hobby since high school, and took every ceramics course offered by Bruce Breckenridge and Don Reitz before graduating in 1980. He later founded the Visiting Ceramics Artist program at the University. Starr spent most of his career thus far as the owner of Consolidated Service Corporation, a fleet management company, but sold it to focus on art full time. He lives in Long Grove, Illinois, with his wife Debbie and has a studio in nearby Lake Zurich. They have two daughters.
John D. Wiley, PH.D. 1968
Chancellor Emeritus John D. Wiley was a graduate student in physics when he first came to the University of Wisconsin-Madison in 1964. He returned to campus a decade later, embarking on a more than 30-year career as a professor and administrator that has made a lasting impact on both the university and the state in the true spirit of the Wisconsin Idea. As the university's chief executive officer, Wiley led UW-Madison through a period of major growth in diversity, infrastructure, research funding, access, and service-learning and study-abroad opportunities for students. He is a passionate supporter of the arts and strong advocate for a plan to create an East Campus arts corridor, including a pedestrian mall and an expanded Chazen Museum of Art. In less visible ways, Wiley's enthusiasm for the arts has touched lives across the campus. He and his wife, Georgia, provide funding for various arts programs across the University and John personally welded metal wine racks for art auctions benefiting Tandem Press, a self-supporting printmaking studio affiliated with the Art Department.
Mary Alice Wimmer, MA 1961, MFA 1964
Mary Alice Wimmer is a retired Professor Emerita from University of Wisconsin colleges where she taught drawing, painting, printmaking (woodcut), art survey, women in the arts, and renaissance art history. She is currently working in watercolor painting and silverpoint drawing. Wimmer has exhibited statewide, nationally and internationally in juried and invitational shows. Her work is shown at the following galleries: Tory Folliard in Milwaukee; Printworks in Chicago; and Chosy in Madison. She has works in the permanent collections at the Chazen, Madison Museum of Contemporary Art, Milwaukee Art Museum, Racine Art Museum, and the UW Student Union. She also currently serves on the Chazen and the Tandem Press Board. In the past she has served on the Wisconsin State Arts Board under four governors, the Dane County Cultural Affairs Commission, the Madison Art Center Board, and the UW Alumni Association Board.
Sherry LeVine Zander is a native of Milwaukee, Wisconsin. She has exhibited her colorful watercolor and acrylic paintings regularly in juried shows in regional art museums, and has shown and sold work in art galleries in Minnesota, Wisconsin, Iowa, Oklahoma, Texas, Mississippi, Louisiana, and South Carolina. Zander's work has also been seen in print publications including Better Homes and Garden Treasury of Needlecrafts. Several years after relocating to Dallas, Texas, Zander began teaching private group art classes at her studio. She does what she loves⁠—teaching young people the joy and wonder of discovering and creating art. Zander lives in the Preston Hollow area of Dallas with her husband Ron, two daughters, and a lot of very interesting art.
David A. Berlow, BS 1977

David Berlow was born in Boston, Massachusetts but grew up in Madison where his father was a professor in the Pediatrics Department of the University of Wisconsin School of Medicine. On a Colorado camping trip following graduation from high school, Berlow had a chance encounter with UW art professor Phil Hamilton, who convinced Berlow to study art at UW. Berlow's talents in typography landed him a career as a letter designer in 1978 for Mergenthaler, Linotype, Stempel and Haas type foundries. After working with digital type supplier Bitstream in the 1980s, Berlow founded The Font Bureau with Roger Black, a former art director for Rolling Stone magazine. The Boston-based Font Bureau has developed more than 300 new and revised type designs for The Chicago Tribune, The Wall Street Journal, Entertainment Weekly, Newsweek, Esquire, Rolling Stone, Hewlett Packard and others, with OEM work for Apple Computer Inc and the Microsoft Corporation. Berlow is a member of the New York Type Directors Club and the Association Typographique International, and remains active in typeface design.
Michael T. Hanson, BBA 1999
Michael Hanson was born in Oconomowoc, WI but grew up in Madison where his mother was a nurse at University of Wisconsin Hospital and his father was an executive for WPS/Wisconsin Health Insurance Inc. He comes from a family with strong ties to the Wisconsin artistic community, his Grandmother (Elizabeth Gallagher) was a painter that frequently showed her work at the Art Fair on the Square, and his Grandfather (Charlie Hanson) served for over 30 years as the drive time morning DJ on 1130 WISN Radio in Milwaukee. Hanson has worked in the Financial Services industry both as an Advisor, Director, and Managing Partner, and has served as Advisory Board Vice Chairman with the Salvation Army of Dane County, President of the Board of Directors for Madison Dental Initiative, and is active with St. Maria Goretti Parish/School as well as Madison West HS Athletics.
Barbara G. Hennessey, BS 1973
Barbara Hennessy graduated in 1973 with a degree from the Art Department. While in Madison, she studied typography and book design. She worked for seventeen years in children's book publishing as a book designer and art director, primarily for Viking Children's Books in New York. Her design work has received numerous awards including: The American Book Award for Art Direction and Book Design, the American Institute of Graphic Arts Certificate of Excellence, the Type Directors Club Citation for Typographic Excellence, the Art Directors Club Award, the American Institute of Graphic Arts Award, and several Society of Illustrators Certificates of Merit for Art Direction. Hennessy has also authored over 35 children's books under the name B.G. Hennessy. Published by Viking Children's Books, G. P. Putnam Books for Young Readers, Candlewick Press, and Simon and Schuster, she has nearly four million books in print in ten languages.
Diane "Dee Dee" Pellegrin, BS 1969 Art Education

Dee Dee Pellegrin is a former art educator who grew up in Racine, Wisconsin. She worked as a graphic designer at the former Johnson Hill Press Inc and taught needlepoint at the vocation/technical college in Fort Atkinson. Pellegrin is a Community Volunteer and has served on the following boards: The Milwaukee Public Library Foundation Board of Directors, Junior Achievement of Southeast Wisconsin Board of Directors and Teacher, Junior Achievement of Wisconsin, Women's Association past chair, Habitat for Humanity/Milwaukee⁠ Chair of the 2011 Women's Build, Peace Harvest International Board of Directors, and THW/Global Solidarity/Uganda project. Past Boards/involvements include: Next Door Foundation, Children's Service Society of Wisconsin, Friends of Milwaukee Ballet, Alverno College President's Council, Milwaukee Institute of Art & Design, UW-Madison School of Education, Milwaukee Art Museum/Docent, and Children's Hospital of Southeast Wisconsin.
Lyle F. Novinski, MA 1958, MFA 1963

Lyle Novinski, an art historian and painter, received an MA in art education and an MFA in painting from the University of Wisconsin-Madison. He did graduate work in philosophy and theology at Marquette University and worked with one of the founding Cistercians at UW. Novinski joined the University of Dallas faculty in 1960 to help found the art department. He received many commissions and prizes in the earlier half of his career, after which he began devoting his time to liturgical art and design including paintings, stained glass windows, and furnishings. His work can be seen in more than 65 churches across Texas but primarily in the Dallas and Fort Worth area. He designed a complete set of windows for a new church in Cedar Park, Texas.
Brian Raffel, BS 1986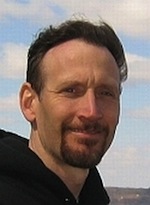 Brian Raffel, a former high school art teacher who, with his brother Steve, co-founded Raven Software in 1990. The company launched several popular games before attracting the interest of Activision, which acquired Raven Software in 1997 and appointed Raffel the head of the studio. Raffel has overseen the development of several popular game titles, including Soldier of Fortune, Star Wars Jedi Knight 2, X-Men Legends, Marvel Ultimate Alliance, Call of Duty Black Ops, and Modern Warfare 3.
Susan Solie Patterson, MFA 1982

Susan Solie Patterson has earned two degrees in art from the School of Education: a BS in 1979 and an MFA in 1982. Patterson is a letter winner, team captain, and all-American swimmer. Her professional experience includes serving as Partner/Senior Art Director at J. Walter Thompson/NY (now known as JWT), and is also an accomplished photographer. Patterson has served on the Board of Directors of the Dreyfoos School of the Arts Foundation in West Palm Beach, Florida and Board of Directors at Palm Beach Day Academy in Palm Beach, Florida. A stalwart Badgers fan, Patterson has authored a series of children's books with her husband, James.
Jeffrey Zukowski, BS 1993
Jeffrey Zukowski received his degree in graphic design in 1993 under the mentorship of Professor John Rieben. A spirited and ambitious entrepreneur, since graduation Zukowsky founded four companies, two of which he sold. His largest success was with Web Design Group, Inc, a leading web development firm in Chicago with over 150 clients including American Express, Nike, Dupont, Motorola, and General Electric, which he started in 1993 and ran as CEO until selling it in 2000. Zukowski was named one of the Top 30 Entrepreneurs by Crain's Chicago Business Magazine in 1999, was recognized by the Chicago Sun Times as "one of the brightest new business leaders in Chicago," and was the youngest member of Mayor Daley's Technology Advisory Board. His other memberships include The Association of Internet Professionals and the Technology Council for the Chicago Chamber of Commerce. He lived in Lake Geneva, Wisconsin, with his wife and family and was the vice president of Symlabs, an international company specializing in identity management infrastructure. He split office time between Lake Geneva and downtown Chicago.