For Immediate Release – March 27, 2023
The Chazen Museum of Art and UW–Madison Art Department are pleased to announce the Chazen Museum of Art 2023 Russell and Paula Panczenko Master of Fine Arts Prize winner University of Wisconsin-Madison Graduate Student Monty Little!
Awarded to one graduating MFA candidate from the University of Wisconsin-Madison, the annual Chazen Prize exhibition prize is offered in collaboration with the Art Department and judged by an outside visiting curator. Artist, writer, curator, and Executive Director of Ox-Bow School of Art and Artists' Residency, Shannon R. Stratton selected this year's recipient. The prizewinner's MFA thesis exhibition is shown at The Chazen Museum of Art, and the prizewinner receives a stipend to assist with their thesis production, provided by the Chazen Museum.
Conceptually, my work unfolds the erasure of indigenous identities within the United States. Focusing on historical elements: the Indigenous Boarding School era, ratified Indian treaties, and the examination of indoctrinated attempts that have assimilated and colonized Native American identities which then complicated their contemporary identities nationwide, the exhibition clarifies and modifies current viewpoints on indigenous survivance, which has been obscured from governmental mandates.

Presenting structural components as paper formations, the installation contains found objects and 3D printed objects, along with several framed photopolymer prints. Stacked into three hundred and seventy-four legal sized handmade cotton and abaca papers, these papers represent all the ratified Indian treaties. Conceptually, every clean sheet presents the viewer with the resulting erasure of the treaties.

The exhibition further includes an installation with original boarding school desks, representing the Indian Boarding school era. Organized as a classroom, and the desks face twenty 3D printed jaws attached with braided hair, engulfed by these jaws as they seem to protrude out of the walls.

Last, the exhibition houses several framed laser cut photopolymer prints which depict the modernized identities of indigenous peoples. First digitally manipulated and then inserted into a laser cutter, they are cut into a design to distort. These photopolymer prints reenact the complexities and survivance of contemporary indigenous identities.

—Monty Little [MFA '23]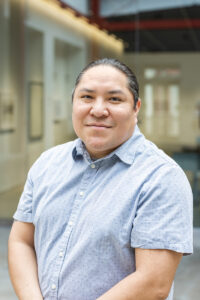 After five semesters of studying Architecture at Arizona State University, Monty Little enlisted in the Marine Corps as a Rifleman in 2004. Within his enlistment, Little was stationed with 2nd Battalion, 5th Marines where he deployed with the 31st Marine Expeditionary Unit to various countries in Southeast Asia in 2006, and to Ar Ramadi, Iraq in 2007. Little served as a fireteam leader, overseeing three Marines in a squad, while deployed in Iraq for a little over seven months. In 2008, Little was Honorably Discharged from the Marine Corps.
Following his service, Little graduated from the Institute of American Indian Arts in Creative Writing and Studio Arts. It was here; he began to feel the urge to translate his thoughts on his experience of war and post-war. Little wrote extensively on his encounters of conflict and commenced an unfolding of his deployments. Much of his writing initiated surreal images; thus, wanting to visually relay those images, Little began to paint and print what he wrote, using each medium as erasure, where unsettling truths reveal personal components and texture is integral, yet disruptive to find his past chaotic.
Little's MFA thesis exhibition Premonitions will be shown at the Chazen Museum of Art from April 17 to July 9, 2023.