Wednesday, April 27 @ 5 – 6:15pm
Humanities 2650
FREE & OPEN TO THE PUBLIC
Online at Zoom: go.wisc.edu/uw-art-talks
Our graduate students earning their Masters degrees will present their interdisciplinary work to the public. Explore their body of art, three-years in the making through the development of a rigorous studio art practice under the supervision of a faculty guidance committee, learning to cultivate professional practices that facilitate a sustainable career in the arts.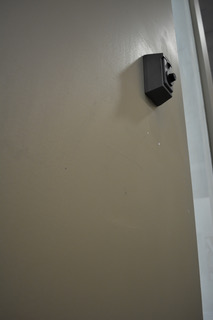 Ashley Goodwyn grew up in Alabama surrounded by art. She went to Alfred University to get her BFA in Glass and Ceramics. After graduating she moved around the country working at various studios in ceramics, glass, and marble. She spent the last three years at UW Madison working towards her MFA.
"It is now impossible to isolate the process of the real, or to prove the real."
This quote from Simulacra and Simulation becomes increasingly accurate as flawed information engulfs our cognizance. Scientific techniques show how inaccurate our senses are as we try to discover the world around us. Jonathan Crary states in Techniques of the Observer, "Vision and its effects are always inseparable from the possibilities of an observing subject who is both the historical product and the site of certain practices, techniques, institutions, and procedures of subjectification." We place our history on the world we perceive. Our flawed understanding of our surroundings defines our world. How do we know what we think to be true is real? Neal deGrasse Tyson also claims that our senses are one of the most flawed ways of understanding the world around us.
Reality shifts through our grasp as we try to define it with our senses. I have been questioning how we define our reality when we cannot trust ourselves. I work with illusions and the history of deception to flip the viewers' understanding of seeing. This research connects fake news, Trump, and gaslighting to the history of magic, perception, and the digital age.
I work in sculpture to entice questions about our physical world. Living in the digital era, we are accustomed to questioning information given to us by new media. But we are not used to cross-examining things we see with our own eyes. I play with the expectations of the objects around us, causing them to act in unnatural ways. Working in the shadows, I trick the viewers' visual understanding into believing what they are seeing is actually real. I manipulate their concept of the world around them, leaving them to question their fundamental truths.
Constructed like a funhouse of mundane objects, my work asks viewers to look twice or closer. The use of everyday objects in my work connects to people's lived experiences. Personal histories with objects are altered when one realizes a thing is not what they had thought. Familiarity is severed, and feelings of the uncanny, doubt, and uncertainty start to arise. The questioning that precipitates from this complicates one's definition of reality.
Knowing our reliance flawed senses leaves us vulnerable, I hope to surprise the viewer into second guessing. My goal is to push the viewer out of this stupor and have them question virtual information and what they experience with their senses.
Barbara Justice is a visual artist pursuing her Master of Fine Arts degree at University of Wisconsin-Madison. She came to the UW-Madison Art Department through the Interdisciplinary Artist Research Cohort Fellowship in 2019. Her research and studio practice revolve around photographic arts while examining areas of archival preservation and historical techniques, book arts, digital fabrication, printmaking, creative writing, and community-based artistic projects.
Currently, Barbara is an Assistant Digital Preservation Specialist at the UW-Digital Collections Center in Memorial Library. Barbara has exhibited art works regionally, nationally, and globally during her time as a UW graduate student. Her academic accomplishments include teaching digital photography, codirecting Backspace Gallery and having a handmade artist book acquired by the Kohler Art Library Permanent Collection in 2021. She recently completed her thesis exhibition at Gallery 7 on the UW campus. Barbara is from Southern New Mexico and far west Texas. She earned her Bachelor of Fine Arts Degree from the University of Texas at San Antonio.
Elizabeth Sheeler is a Madison, Wisconsin interdisciplinary artist who has been involved in multiple areas of creativity. Elizabeth was born and raised in Fayetteville, Arkansas where she found her passion for art. She is currently receiving a Master of Fine Arts in Studio Art with a concentration in 4D at The University of Wisconsin – Madison. She has an expected graduation date of spring 2022. In 2019 Elizabeth received a Bachelor of Fine Arts in Studio Art with an emphasis in Sculpture and a Bachelor of Fine Arts in Art Education with an emphasis in Printmaking.
Elizabeth's practice is a reflection of her new positionality in life. She creates interactive spaces where participants are forced to encounter their own perception of the space and confront the way they choose to engage with their surroundings. By being immersed with a mostly non-visual experience, participants are asked to relearn. Information is gathered in a variety of ways to help stimulate participants' visual memory and build a clear mental picture. By continually creating a detailed mental image, they are able to more accurately recall locations of objects within space, thus feeling safer and more comfortable. In her work viewers are empowered to problem solve solutions. Viewers begin to generate an informed choice on lived experiences.