Wednesday, December 8 @ 5 – 6:15pm
FREE & OPEN TO THE PUBLIC
Online at Zoom: go.wisc.edu/uw-art-talks
Our graduate students earning their Masters degrees will present their interdisciplinary work to the public. Explore their body of art, three-years in the making through the development of a rigorous studio art practice under the supervision of a faculty guidance committee, learning to cultivate professional practices that facilitate a sustainable career in the arts.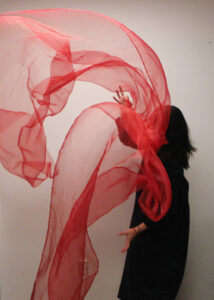 Hong Huo is a Beijing-born visual artist who expands the notion of animation through multiple disciplines such as drawing, performance and mix-media installation. She has experiences in animation and video production, graphic design, and her works have gotten into multiple film festivals and exhibitions nationally and internationally. Huo received her BFA from Virginia Commonwealth University in 2017 and is currently a MFA candidate at University of Wisconsin-Madison. hong-huo-art.com
Derek Kiesling works to incorporate science, engineering, visual arts, music, mathematics, and skilled craftsmanship into his projects. Not content to pursue a single field of study, he does his best to pursue these various subjects with depth and rigor in his work. He holds a bachelor's degree in physics and mathematics, a graduate degree in engineering, and studied music performance with the only fingerstyle program in the world. Additionally, he was raised in a family environment which emphasized practical experience in the skilled trades and fine craftsmanship and doesn't shy away from the necessity of these skills for artistic expression.
Lianne Milton is a third-year MFA Candidate in Photography, freelance photojournalist, and social documentary photographer. Her practice-led research explores the complexities of the human condition, in particular, the maternal. It is concerned with interconnecting themes of history, identity, and transgenerational memory at the intersection of feminism, public health, and social justice. Prior to grad school, she was based in Rio de Janeiro, Brazil, where she became addicted to açai, photographed the violent protests of the World Cup, and her photographic coverage for The Washington Post brought international attention to the Zika crisis. Lianne is a recipient of the International Women's Media Foundation fellowship, Pulitzer Center for Crisis Reporting grant, Sony Global Imaging Ambassador program, and Yves Rocher Foundation Environmental Photography Award. liannemiltonphotography.com