Wednesday, April 21 @ 5 – 6:15pm
FREE & OPEN TO THE PUBLIC
Online at Blackboard: bit.ly/uw-art-talk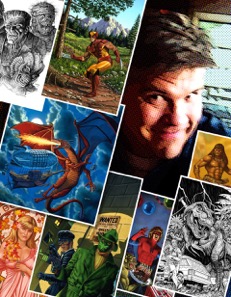 Jeff Butler [BS-Art '18]
An illustrator and comic book and video game artist, Jeff Butler broke into the comic book field in the early '80s, helping writer Mike Baron create The Badger for Capital Comics. He spent five years in the world famous art department of TSR, Inc., the American game publishing company Tactical Studies Rules founded by the creators of Dungeons & Dragons. At TSR, he illustrated many D&D and DragonLance game products and was also the principal artist for the Marvel Super Heroes (role playing game). In 1989, Butler teamed up with writer Ron Fortier to bring The Green Hornet back to comic books. Butler would go on to illustrate other comics: Jurassic Park, Hercules: The Legendary Journeys, Xena: Warrior Princess, Charles Barkley vs. Godzilla, to name a few. His art has been featured nationally in TV Guide and The Children's Television Workshop magazines, and Universal Studios licensing. Butler also worked in the video game industry as a 2D and 3D character designer and concept artist at Raven Software. He was the Lead Character Artist for games like X-Men Legends I & II and Marvel: Ultimate Alliance and contributed art to nine other AAA video games.
In 2018, Butler reenrolled full time at the UW to complete the 25 credits needed to complete the art degree he started in the 70s, studying under renowned cartoonist and writer Professor Lynda Barry. Butler currently teaches Making Comics at the UW-Madison and Drawing Fundamentals at Madison College. He continues to do freelance illustration and commissions. jeff-butler.com
Cate Richards [MFA '20]
An artist, jeweler, and educator currently living in Madison, Wisconsin, Cate Richards' work takes advantage of our fascination and romanticization of the antiquated, the worn, the outmoded—pre-industrial tools and their relation to creation and penance, spiritualism and witchery. She has been awarded several travel grants for research, including funding for fieldwork in the Upper Peninsula of Michigan to study the copper mining culture of the area, and in Appalachia at the Foxfire Museum and Heritage Center to learn broommaking.
Richards has exhibited internationally and has shown work at Abel Contemporary in Stoughton, Wisconsin, Lillstreet Arts Center in Chicago, and the Gallery im Körnerpark, Berlin. She balances her studio practice along with working with nonprofit arts institutions and educational initiatives and has held positions at Wheelhouse Studios, The Lawrence Arts Center, P.E.O.P.L.E. Program, and The Society of North American Goldsmiths.
Richards graduated from Baker University with a BA in both Art and Art History in 2012, and earned her MA/MFA from the University of Wisconsin-Madison in 2020. Currently, she is a Lecturer for ART100: Intro to Art at UW-Madison. In the summer of 2021, Richards will be a resident at Massachusetts Museum of Contemporary Art. caterichardsart.com
Jamie Jacobson [MFA '21]
Jamie Jacobson is an interdisciplinary artist using invented characters to explore the trauma inherent in growing up and the ways children use magic to overcome those traumas. Through painting, sculpture and works on paper, Jacobson examines the characters they became to survive their own childhood. Originally from central Wisconsin, Jacobson moved south in 2011 to study at the University of Wisconsin-Madison where they received degrees in studio art and creative writing. Jacobson is now a third-year MFA candidate at the University of Wisconsin-Madison studying drawing, painting, and sculpture. Next fall of 2021, Jacobson will be teaching Life Drawing and Advanced Drawing at the UW. inkwelleyes.com