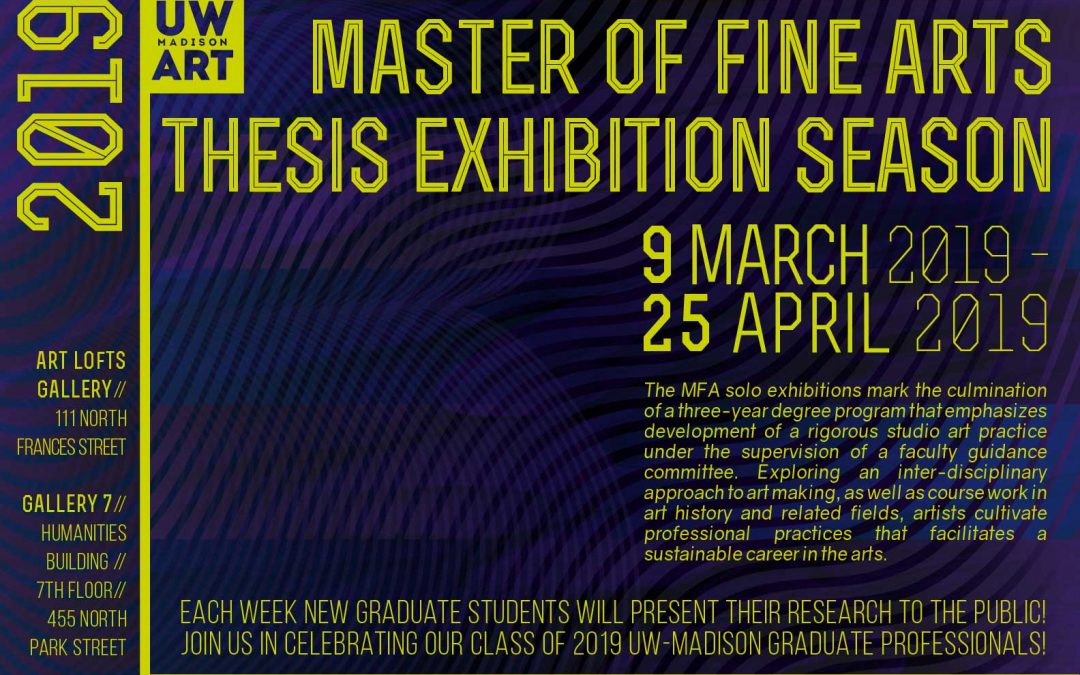 March 9 – April 25
Locations: Art Lofts Gallery, 111 N Frances St
Gallery 7, Humanities Building 7th Floor, 455 N Park St
Announcing the new 2019 UW Art Masters of Fine Arts Thesis Exhibition season at the Art Lofts Gallery and Humanities Building Gallery 7 at the University of Wisconsin-Madison. The Exhibitions will be on view March 9 – April 25, 2019, each week new graduate artists will present their research to the public!
The MFA Exhibitions mark the culmination of a three-year degree program that emphasizes development of a rigorous studio art practice under the supervision of a faculty guidance committee. Exploring an inter-disciplinary approach to art making, as well as course work in art history and related fields, artists cultivate professional practices that facilitates a sustainable career in the arts.
Sunday, March 31 @ 12-3p Location: Chazen Museumn of Art, 750 University Ave, Madison, WI Join 3rd year MFA candidate in Printmaking, Carissa Heinrichs, for an all-things-blue workshop in cyanotype photography at the Chazen Museum of Art. Participants will learn about...
March 23 - 28 Closing Reception: Wednesday, March 27, 6-8p Location: Art Lofts Gallery, 111 N Frances St, Madison, WI First 100 people at the reception receive a FREE signed artist book!
March 13 - 27 Reception: Wednesday, March 27, 6-8p Location: Backspace Gallery, Art Lofts, 111 N Frances St, Madison, WI Event URL
Did you know?
The UW-Madison Art Department is nationally ranked:
#1 Printmaking

#15 Overall Fine Arts Program
Source: U.S. News & World Report
---
The University of Wisconsin-Madison ART DEPARTMENT is committed to teaching art in the context of a major research university and a vibrant intellectual community. Offering the following degrees: B.S., B.F.A., M.A., & M.F.A. in Studio Art, B.S. in Art Education, and Certificate in Studio Art.
Take a 720° virtual tour of the Art Department