Dear Alumni and Friends of the UW Art Department
I am writing to share some truly exciting news. We are undertaking a major renovation project in the Art Lofts and moving purposefully into the future!
In the last couple years, we have been working hard toward a new vision of the UW Art Department—a 21st Century vision in which we have considered, among other things, the long-term sustainability of our programs and facilities. We have undertaken two major reviews in the last year alone. One, an internal 10-year review self-study by outside evaluators, and the other, a NASAD (National Association of Schools of Art and Design) review that reviews the entirety of our programs and provides us national arts accreditation. We did extremely well in both reviews, validating what we all know, that the UW Art Department is an amazing place to study art!
In the past year, we took advantage of a rare opportunity when the back half of the building that we have called the Art Lofts suddenly became available. This provided us the possibility to think about our long-range plans for developing new teaching spaces, and to think outside the box about what we want the department to look like moving into the future.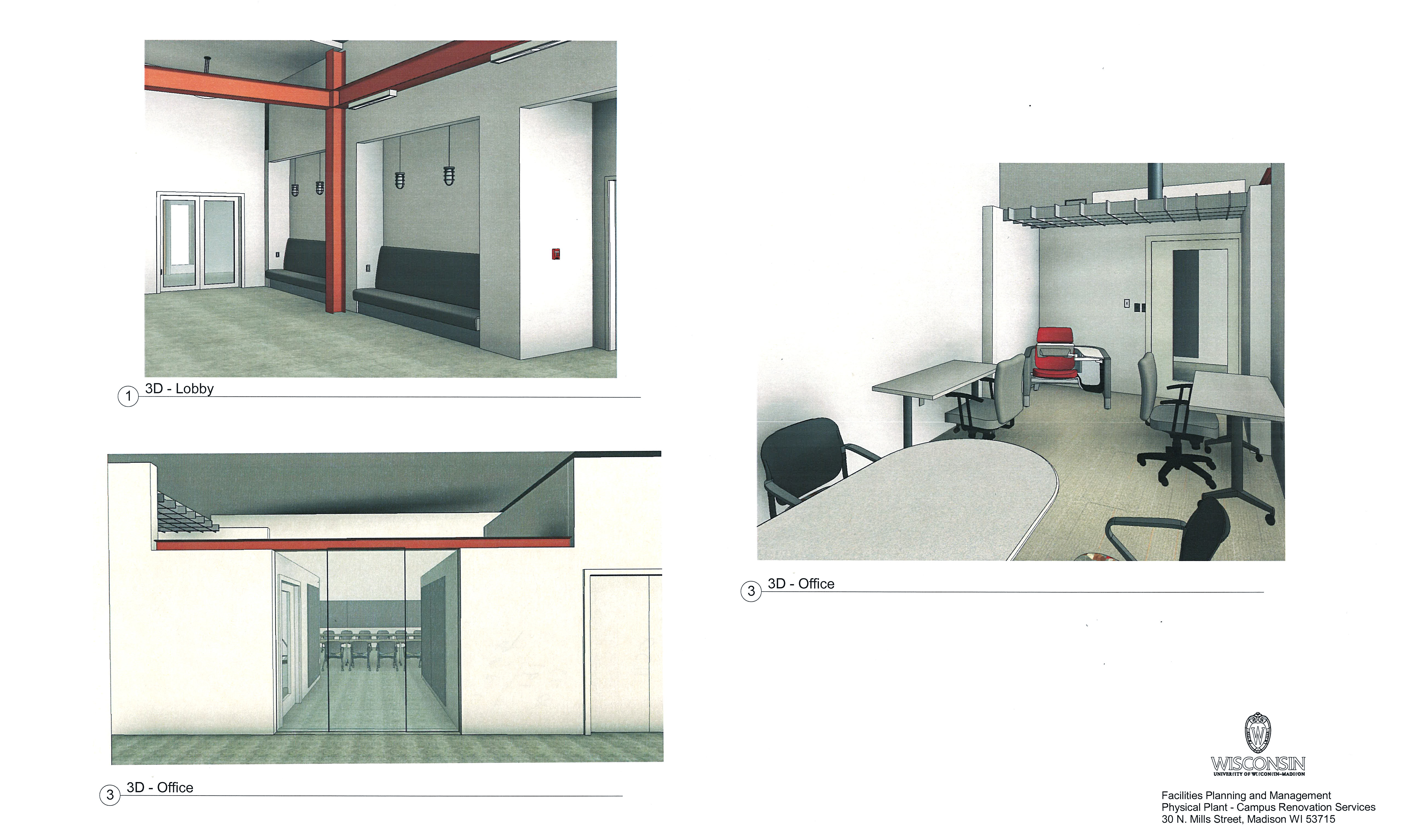 So now we are in the process of the first phase of a major remodel at the Art Lofts. This work will help us better serve our students, our teaching mission, recruiting, and more; it will significantly impact our public face and each interaction we have with prospective students, their families, supporters, and the public at large. In this process, we are refreshing and remodeling our gallery and entryway, including signage and waiting areas, as well as creating over 1000-square feet of flexible space to be used for teaching, meetings, advising and more. This part of the project will take us into the coming academic year, and when it is finished we will really have something special to share with the world—a fresh new entry and refurbished gallery, meeting spaces, and flexible teaching space.
We are starting to look ahead to Phase 2, which will begin with a feasibility study by a major architectural firm. In that study, we will ask ourselves the big questions about the face and the future of the Art Department. With Phase 1 we have laid the groundwork, and we are excited about the possibilities to come. I hope you are excited too. As friends of the Art Department, alumni and fans, we value your support. I hope you will join us on this journey into the future, we look forward to introducing you to your new Art Department.
Very best,
Douglas Rosenberg
Chair, UW-Madison Art Department