UNDERGRADUATE CERTIFICATE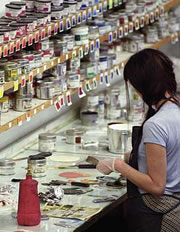 The Certificate in Studio Art allows students from across campus, regardless of their major or degree program, to complete an integrated academic art program. It was developed in response to requests from numerous students over the years who would like to engage in a structured, meaningful art studio experience, but do not intend to major in the visual arts. These students may or may not have taken art courses in secondary or post-secondary studies. They may not have professional ambitions in the arts, but have interest in a special discipline and want to develop their talents. We welcome these students into our program.
Undergraduate students from Interior Design, Textile Design, Business, Biology, Chemistry, Computer Sciences, Math, Economics, Religious Studies, Psychology, Journalism, Communications, Languages, Agriculture, and more participate in this very popular certificate program.
This program is also open to those who have already completed a Bachelor's in Art, but now want to study in a different area of emphasis, such as Graphic Design. These students should apply to the university through the Division of Continuing Studies as a Special Student, and then work closely with an advisor in the Art Department to substitute higher level courses for the foundational studio courses.