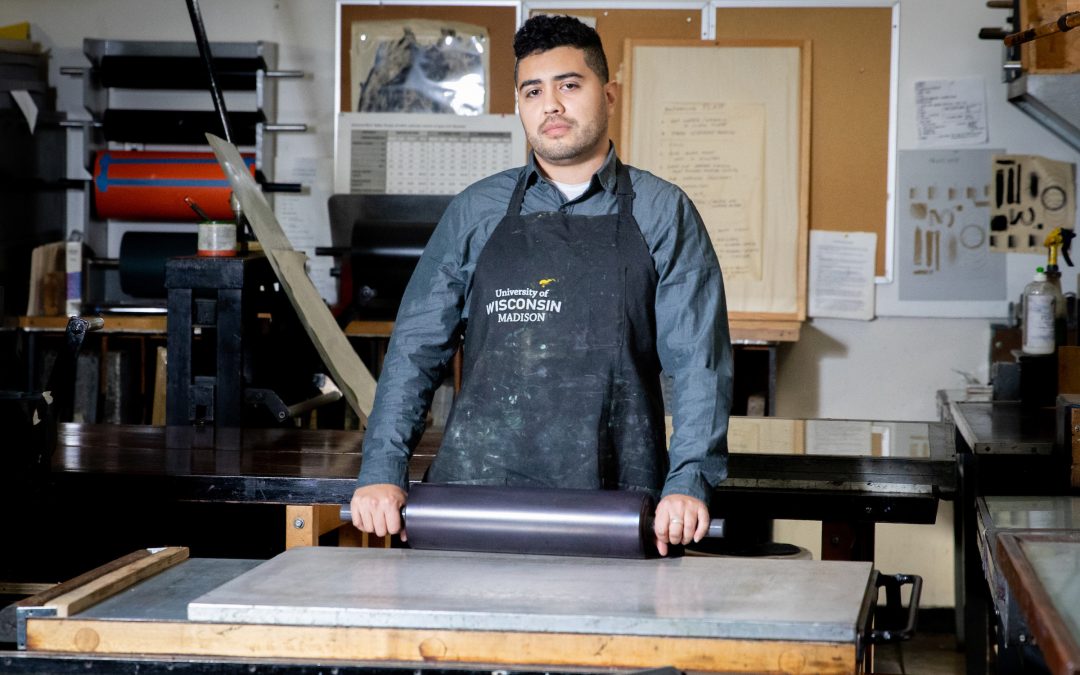 For Immediate Release – December 7, 2020
The Chazen Museum of Art and the UW–Madison Art Department are pleased to announce the Chazen Museum of Art 2021 Russell and Paula Panczenko Master of Fine Arts Prize winner University of Wisconsin-Madison Graduate Student Roberto Torres Mata!
Awarded to one graduating MFA candidate from the University of Wisconsin-Madison, the annual Chazen Prize exhibition prize is offered in collaboration with the Art Department and judged by an outside visiting curator. Artist, writer, curator, and Executive Director of Ox-Bow School of Art and Artists' Residency, Shannon R. Stratton selected this year's recipient. The prizewinner's MFA thesis exhibition is shown at The Chazen Museum of Art, and the prizewinner receives a stipend to assist with their thesis production, provided by the Chazen Museum.
My practice is examining both human and animal migration within the contextualization as a passage with the commonalities that tie them together. Migration is about our fundamental right to move freely in search of our fullest and best selves while demonstrating the dire need to protect migrants and the species that depend on migratory routes for survival.

Directing attention to these complexities that also express both ecological, economical, and social issues that are centered in the Americas. To destigmatize migration, I center my work through a multidisciplinary approach realized through the metaphors of natural phenomena. Focusing on materiality that expresses an emotional and physical sense of realities of human migration as well as the routes that animals depend on for long-distance movement for survival.

Bringing a thought provocative approach to migration and creating a sense of the journey that many of us have not experienced or have yet to embark on. In essence, we are navigators, we seek to find solidarity with the promise for a better life that I believe we can help shape the dialogue while removing the idea of creating barriers of division and to promote compassion and humanity.

—Roberto Torres Mata [MFA '21]
Roberto Torres Mata is an artist from Huntington Beach, California, and Rockford Illinois, currently located in Madison, Wisconsin. He has exhibited his work nationally and Internationally, including at the Figge Art Museum in the Quad Cities, Illinois, and Zhou B Art Center in Chicago. His work has been published in The Capital Times and OnWisconsin. He is a current Graduate student at the University of Wisconsin-Madison earning his Masters degree and Masters of Fine Arts in Printmaking. He holds a Bachelor's degree in graphic design from Western Illinois University of Southwest Illinois. Torres Mata is a recipient of the UW-Madison School of Education Graduate Research Scholars Fellowship and the winner of the 2021 Chazen Prize.
Torres Mata's MFA thesis exhibition will be shown at the Chazen Museum of Art from tentatively April 3 – May 16, 2021.
Wednesday, April 21 @ 5 - 6:15pm FREE & OPEN TO THE PUBLIC Online at Blackboard: bit.ly/uw-art-talk Our graduate students earning their Masters degrees will present their interdisciplinary work to the public. Explore their body of art, three-years in the making...
Did you know?
The UW-Madison Art Department is:
#1 in Printmaking
Ranked among the top 15 Fine Arts MFA programs
Founded the 1st collegiate Glass program in the U.S.
1 of only 5 universities in the nation with a Neon program
Ranking Source: U.S. News & World Report
---
The University of Wisconsin-Madison ART DEPARTMENT is committed to teaching art in the context of a major research university and a vibrant intellectual community. Offering the following degrees: B.S., B.F.A., M.A., & M.F.A. in Studio Art, B.S. in Art Education, Certificate in Art Studio, and Certificate in Graphic Design.
Take a 720° virtual tour of the Art Department