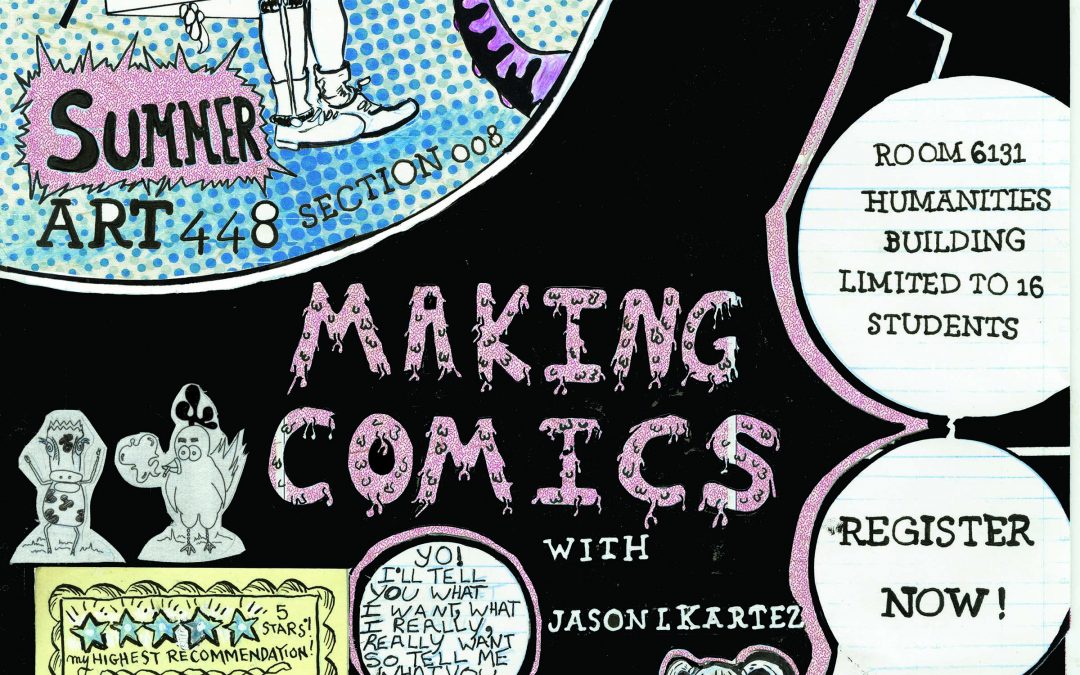 Making Comics (& other Graphic Formations) with Jason L. Kartez
May 29 – July 22, 10a-3p  M/W
Making Comics, Art 448, Section 008
4 Credits
Beginning-level special topics course, limited to 16 students, open to all UW students from any discipline

This course is an introduction to making comics as both a subject and means of academic inquiry. How do writing and pictures combine and interact to make something new? We call this 'something' by various names; sequential art, graphic novel or autobiography, cartoons, or just plain old 'comics,'
☆☆☆☆☆ Stars! My highest recommendation!
One of my best students has become of of my favorite cartoonists!
Jason Kartez brings something original to comics.
I would take this class in an instant!
-Prof. Lynda Barry
Events
May 1 - 31 Artist Reception: Friday, May 4, 5-9p Location: Hatch Art House, 1248 Williamson St, Madison, WI Our May featured artist is illustrator and printmaker Elizabeth Jean Younce. Elizabeth is finishing up her MFA in printmaking, so let's celebrate her talent and...
Tour the UW-Madison Art Department
We're glad that you're considering UW–Madison to pursue your art education! Tours occur Monday, Wednesday, and Friday afternoons and include viewings of our classrooms and facilities in the Humanities Building. A tour of the Art Lofts is available upon request.
All tours leave at 1pm sharp from the Art Office Room 6241, 6th Floor Humanities Building, 455 North Park Street, Madison, WI 53706 and are approximately 1 hour.
To schedule a tour of our department please complete and submit the following form:
Did you know?
The UW-Madison Art Department is nationally ranked:
#1 Printmaking

#15 Overall Fine Arts Program
Source: U.S. News & World Report
---
The University of Wisconsin-Madison ART DEPARTMENT is committed to teaching art in the context of a major research university and a vibrant intellectual community. Offering the following degrees: B.S., B.F.A., M.A., & M.F.A. in Studio Art, B.S. in Art Education, and Certificate in Studio Art.