Our alumni work in many different fields…
Freelance Scientific Illustrator and Illustrator and Scientific Assistant for the American Museum of Natural History.
Technical Assistant for Lucasfilm Animation, LucasArts, and Industrial Light & Magic.
Photographer and Fine Artist, I teach photography.
Jewelry Designer, I have my own line of jewelry and I create collaborative artwork focusing on metalwork that has been show in museums and galleries around the world.
Book Designer and Art Director for Viking Children's Books in New York.
Freelance 3D Modeler, I use ZBrush to sculpt a variety of objects that are then 3D printed.
Foundation Arts and Art History Teacher at both an art college and through a vocational school that I co-founded.
Full-time Artist and Gallery Owner, encouragement and positive feedback at UW-Madison mean everything to propel me to graduate school and a successful career.
Designer at a costume design company, I also design and build floats for the Fiesta Bowl Parade.
Communications Director which includes managing the visual design aspects of our materials.
Elementary Art Teacher and I recently wrote and published the book Making Art Special: A Curriculum for Special Education Art.
Director and Owner of a video production company.
Senior Designer and Art Director, I create strategic branding and design primarily for consumer packaging and I direct photo shoots, mostly food photography.
Arts Coordinator and Studio Manager at the Madison Children's Museum.
Architect and Fine Artist with my own studio, which later led to a teaching position.
Illustrator, Animator, and Art Director at a motion graphics company, I create style frames for pitches as well as post-production work for live action and CG.
Children's Book Author with over 35 books published.
Professor of Art and Design, I teach various drawing and 2D Design courses and all levels of printmaking.
Multidisciplinary Activist Artist, I create installations, performances, large scale public work, and gallery work.
Freelance Graphic Designer, my arts education gave me a deep love of art and expression. It was art at UW-Madison that gave me the confidence to feel like an artist.
Senior Producer and Project Manager at an environmental graphic design and branding agency
Lead UI Developer, I design and build user interfaces for websites and apps.
Content Marketing Manager at IBM, I strategize for and design content for an IT executive audience in a business professional setting. Everything I have learned at UW-Madison has helped prepare me for this role.
President and Director of my own animation studio.
Visual Artist, specifically painting, I exhibit my work in several galleries around the US.
Designer with a graphic design firm specializing in custom redwood signage for the hospitality industry.
Self-employed Business Owner with a successful photography studio doing work for weddings, portraits, and commercial work.
UX Designer at an enterprise software company, my arts training has enabled me to think outside of the box and be a big picture thinker.
Weaver and Painter, I craft with driftwood and run a seasonal shop featuring Wisconsin art and crafts.
Consultant managing collections and artists' projects in New York, through my arts training I gained a basic understanding of the tools, materials, and conceptual development, which proved very important as I entered the arts administration field. Studio critiques from the undergraduate art program at UW-Madison are the foundation for how I conduct studio visits out in the world now.
Metals Artist at an amazing jewelry designer in Chicago.
Creative Director and Focus Market Leader of a multi-disciplinary design and fabrication art studio with a top 100 national architectural design firm.
Web Developer, while most of my work is programming, and arts education helps me keep an eye on the graphical elements of the pages I make.
CEO and Creative Director of my own graphic design firm.
Ornamental Horticulturalist, I design and maintain intensely landscaped areas of Olbrich Botanical Gardens in Madison, generally considered one of the top gardens of its size in the entire US.
Freelance Photographer in photojournalism.
Designer at my own freelance graphic design firm, and also co-own a cake shop where we create beautiful cakes every day, my first job was with Epic Systems where I tested software and led the Icon Design Group.
Art Therapist and Professional Counselor, I use the visual arts in my work helping families through difficult situations.
Publicist at a major museum and the Director of Development and Marketing at a community art center, I work with artists and curators, and my education of the arts have been vital to those relationships and to effectively communicate about exhibitions, programs to funders, media, and the public.
Artist, I paint watercolor and acrylic landscapes and portraits, and create fused glass combined with driftwood to make hanging outdoor art.
Creative Manager for Lands' End, directing the online web presences for the Lands' End Canvas brand and the Kids line.
Copyrighter and Concept Developer for an advertising agency, I storyboard films, provide art direction, and persuasively explain creative ideas. My time at UW-Madison helped a lot with these aspects of the job.
Secondary school Art Teacher, I've taught art in Wisconsin, Minnesota, Hawaii, Dhaka, Bangladesh, and currently in Dar es Salaam, Tanzania.
UX Designer, my graphic design skills related to laying out information in a clean and engaging manner are very useful.
University Professor at an Art and Design College, my education at UW-Madison has been a vital part of my career.
Attorney, creative thinking helps me work outside of normal lanes and develop creative case theories to best serve my clients at trial.
Arts Management and Arts Entrepreneurship Teacher, I have taught studio arts classes in museum schools and owned an art gallery.
Creative Director for digital design at a major retailer of apparel and home goods, I use the artistic training and critical thinking skills everyday. I am responsible for leading a team to strategize and design omni-channel digital experiences that drive our business.
Landscape Designer, having a good handle on design is crucial to the success of my business because the principles of design are broadly applicable and gardens are basically sculptures with the with the addition of the fourth dimension of time.
Special Ed Teacher, I have to do a lot of planning and integrate arts into the lesson plans.
Metal Fabricator and Machinist, currently with a studio in Brooklyn, New York.
Lead Application Developer in biomedical informatics for an academic medical center.
New Media Director at a political consulting firm.
Business Owner of a Advertising and Marketing Agency, my team and I create graphics and designs, for print, radio, and web.
Fabric Salesman and Merchandising Design Consultant with a background in upholstered furniture design and case goods, I use all my design skills to sell fabric. I never thought I would or could do sales, but because of my design background I am better able to serve my customers. It definitely gives me an edge!
Designer and Art Director for consumer packaging and branding.
Mold Maker in manufacturing, I design molds in a CAD program and prepare a CNC router to cut them in acrylic, then manually inject the molds with materials.
Senior UX Designer, I provide users of software delightful experiences in a way that make sense and is intuitive
Analyst and Migration Manager for an arts-based non-profit which creates platforms for people, mainly large educational institutions, to manage and use their digital media.
Co-founder and Creative Director of a company that makes educational and creative iPad and iPhone play apps for children.
Full-time Curator of private collections in Chicago, I have been focusing on a collection of 19th to early 20th century Chinese silks and my job involves photographing, documenting, organizing and researching the pieces. It's a treat to get to work with beautiful handcrafted things every day!
Art Museums/Galleries
Education
Administration
Curatorial
Registrar
Sales
Publications
Public Relations
Exhibit Design/Preparation
Archivist
Travel/Tour Guides
Reproductionist
Research
The decision to pursue an Art degree was simple for me. The UW-Madison Art Department offered an interdisciplinary approach which allowed me to process my ideas through different materials. With an unhindered ability to explore, I spent my time at UW-Madison building a community within the ceramics area. Working with other interested students, we started the Clay Collective. Every semester, members of the Clay Collective continue to invent new ways of engaging and collaborating with the college and citywide community. Thanks to my education at UW-Madison, I now continue my studio practice, which is exactly what I wanted from the beginning. I am currently a mentee at the Ash Street Project in Portland, Oregon where I produce my own work within a thriving studio environment.
Fine Arts
Exhibiting Artists
Ceramics
Fibers
Jewelry/Metalsmithing
Painting and Drawing
Photography
Printmaking
Sculpture
Book Maker
Muralist
Performance
Video
Art Sales
Art Agent/Consultant
Corporate Curator
Gallery Owner
Art Dealer
Art Manufacturer Sales
Framer
Arts Administration
Art Director
Administration at Colleges, Institutions, Museums, Galleries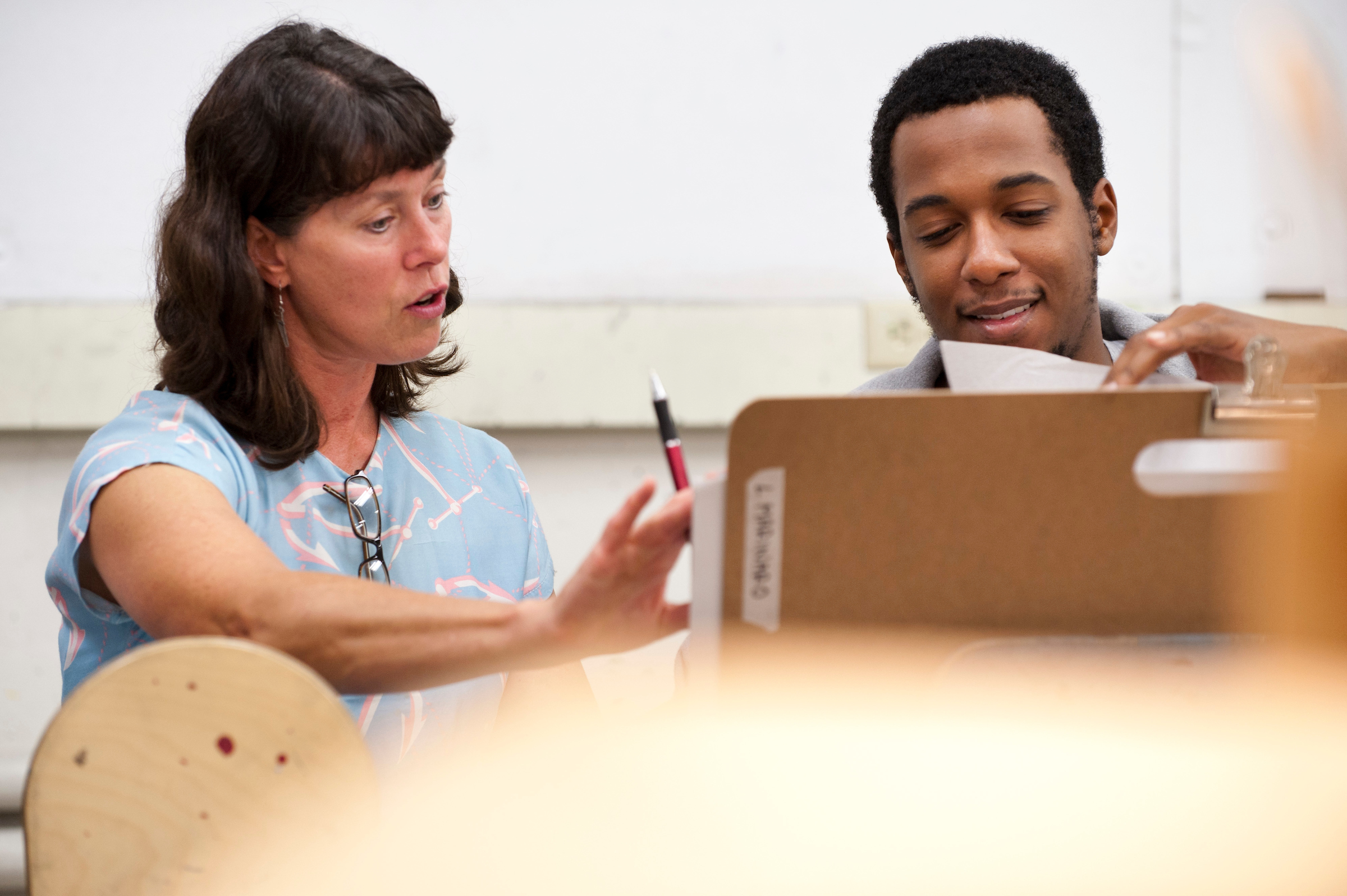 Media
Sales
Production
Editorial
Art Journalism
Art Criticism
Animation
Lighting
Special Effects Artist
Creative Director
Stage Designer
Education
Studio Arts
Public & Private Schools
Art Councils
Fine Arts
Arts Administration & Public Policy
Museums
Community Centers
Art Libraries
I live in Los Angeles where I work for the animation department at Walt Disney Imagineering. My title is actually "Show Programmer" and my department builds, programs, and animates the animatronic figures for all the Disney theme parks, which also means I'm lucky enough to be in one of the departments that travels a lot. So far I've only gone to Florida and Hong Kong, but Paris, Tokyo, and Shanghai are all coming up relatively soon! All the animatronic figures in Disney theme parks are hand-animated. It's all done on our own custom hardware and software. A coworker and I are currently developing the next generation of animatronics programming control that will be used to animate figures in Disney theme parks all over the world.
Graphic Design
Publication Design
Product Design
Packaging Design
Web Design
Interactive Design
Multimedia Design
Information Design
Exhibition Design
Environmental Graphics
Digital Photo Editor
Identity Design
Advertising
Illustration
Freelance Illustration
Advertising
Children's Books
Comic Books
Courtroom
Editorial
Industrial
Medical
Science Fiction
Storyboard
Technical
Photography
Advertising
Architecture
Corporate
Digital
Editorial
Fashion
Fine Arts
Food
Industrial
Journalist
Medical Publications
Products
Portrait
Sports
Studio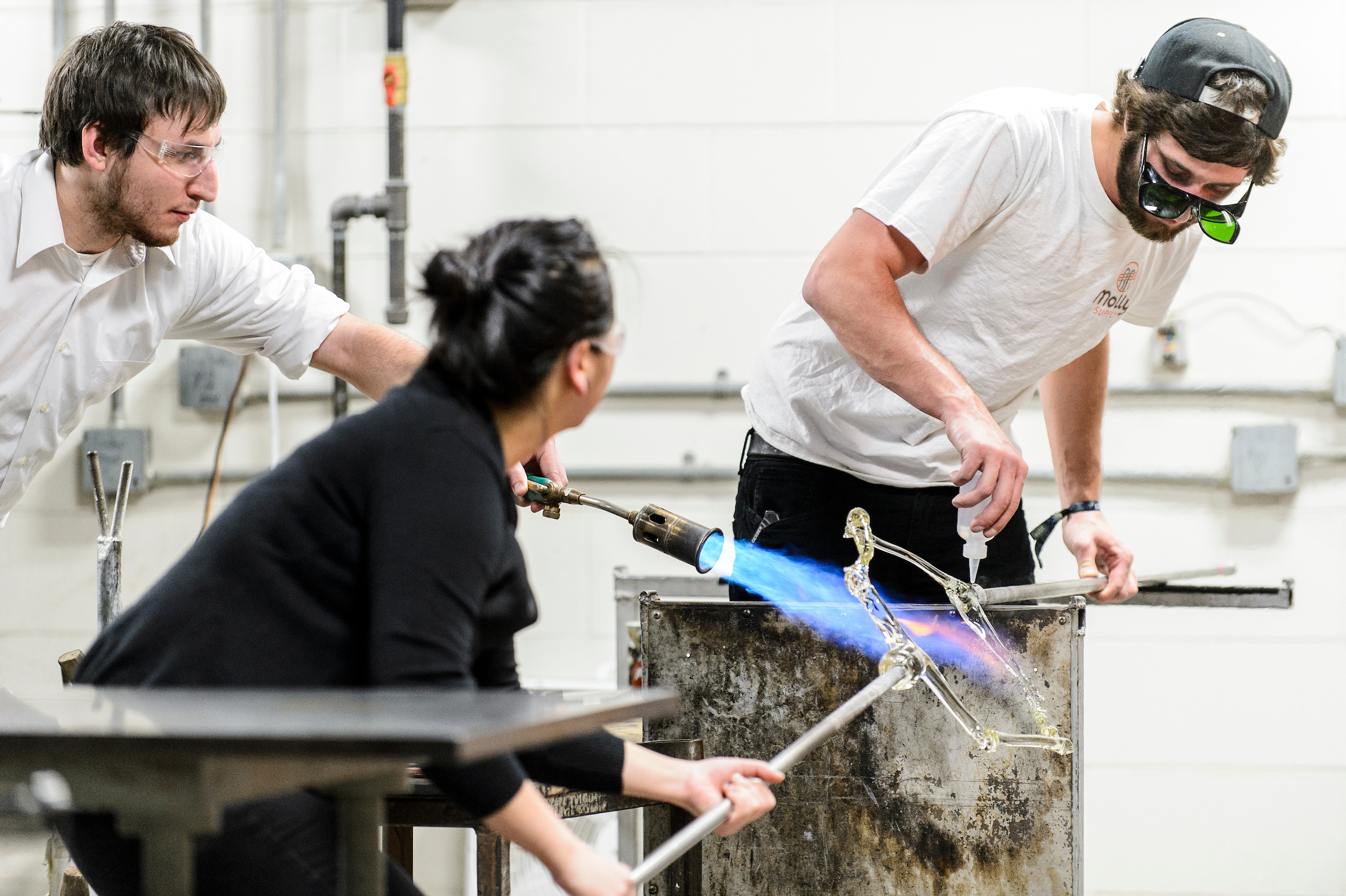 I came to the UW-Madison as a scholarship recipient from the PEOPLE program and immediately dove into the arts. I spent all of my free hours in high school in our ceramics studio, so it only made sense to pursue my passion. Within three weeks into my first semester at the UW-Madison, I landed an internship through the university working for a local ceramics studio. That led to another internship for glassblower Richard Jones, as well as a yearlong stint running my own non-profit after-school art program in partnership with the Service Learning in the Arts course. I spent my fourth fruitful year studying art abroad in Belo Horizonte, Brazil, where I also had the incredible opportunity to curate my first international art exhibition at the Sindicato dos Jornalistas de Minas Gerais. Now as a senior, I oversee the arts organizing and curatorial duties at local non-profit 100State .
Other Professional Practices
Exhibiting Artist
Visiting Artist
Artist-in-Residence
Printshop Owner
Master Printer
Print Shop Assistant
Screen Printer
Book Binder
Archivist
Conservator
Preparator
Community Arts Administrator
Gallery Owner/Director
Management Museums, Galleries, Fine Art Presses, Foundries, and Institutions
Print Production Assistant
Art Supply Consultant, Sales Representative, Demonstrator
Teaching/Instructor