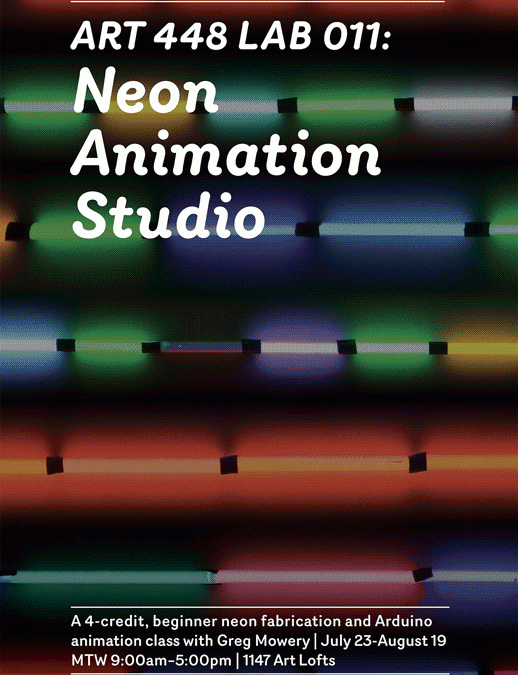 Neon Animation Studio with Greg Mowery
July 23 – August 19 @ 9a-5p – M/Tu/W
Neon Animation Studio, Art 448, Section 011
4 Credits
Beginning-level special topics course, neon fabrication and intro to neon animation using Arduino microcontrollers, No prerequisites required.
Events
Tuesday, May 22 @ 6:30-8p Location: Gallery 7, Humanities Building 7th Floor, 455 N Park St, Madison, WI
Thursday, May 29 @ 8-9:30p Location: The Stock Pavilion, 1675 Linden Dr, Madison, WI Robotic anthropologists, hailing from Elsewhere, have landed on our planet in the pursuit of truth, meaning, and souvenirs. On May 29th, our strange new friends will be sharing their...
May 12 - 17 Reception: Saturday, May 12, 6-8p Location: Gallery 7, Humanities Building 7th Floor, 455 North Park Street, Madison, WI An exhibition inspired by environmental philosophy and exploring the transmission of psychic trauma through every day objects. ...
Tour the UW-Madison Art Department
Are you considering studying ART at UW? Our Summer 2018 Art Department Info Session and Tours are geared towards students who are considering pursuing BS-Art, BFA-Art, or BS- Art Education. We will provide an overview of Art Department programs and discuss degree options, course offerings, and opportunities available for art students at UW-Madison. A brief tour of our classrooms and facilities will conclude the session.
Sessions begin at at 2:00pm at the Art Office Room 6241, 6th Floor Humanities Building, 455 North Park Street, Madison, WI 53706. Questions can be directed to Undergraduate Programs Assistant Shannon Jones: shannon.jones@wisc.edu
To schedule a tour of our department please complete and submit the following form:
Did you know?
The UW-Madison Art Department is nationally ranked:
#1 Printmaking

#15 Overall Fine Arts Program
Source: U.S. News & World Report
---
The University of Wisconsin-Madison ART DEPARTMENT is committed to teaching art in the context of a major research university and a vibrant intellectual community. Offering the following degrees: B.S., B.F.A., M.A., & M.F.A. in Studio Art, B.S. in Art Education, and Certificate in Studio Art.
Take a 720° virtual tour of the Art Department